A machine's operator device (HMI / MMI) must meet numerous requirements to function reliably in industrial environments. To be successful, the front design must provide flexible configuration and the mounting process must be simple and quick – even in very tight spaces.
EAO Smart Box is a simple and customisable "snap-on, plug & play" solution for operator devices in industrial environments that can include on/off, up/down or emergency stop functions in CNC machines or semiconductor production. Alongside a broad standard range, customised solutions are also available to meet the needs of the user.
Simple snap-on mounting and M12 connection is handled without any special tools – simply snap it on the mounting adapter. Thanks to the standardised M12 terminal, the Smart Box can be brought into service quickly and easily. The device can also be mounted on a standard top hat/DIN rail without the need for an external mounting adapter which ultimately benefits the end user with a unique level of flexibility.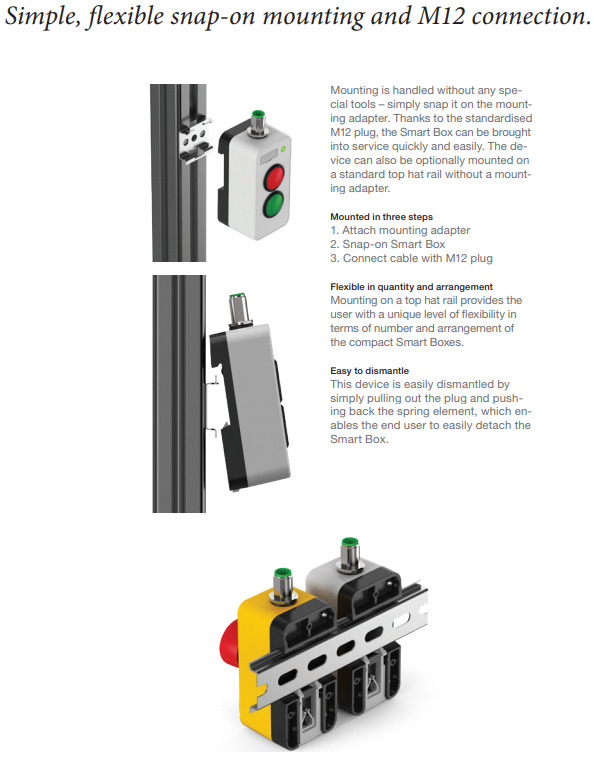 Bus connection (AS-I or other) or direct wiring allow for easy integration into the system. The devices are also easily dismantled by simply pulling out the plug and pushing back the spring element. This design element enables the end user to effortlessly detach the Smart Box in a uncomplicated manner.
The Smart Box can be seamlessly implemented with compatible EAO actuators and indicators. The Series 84 is ideal for this purpose – especially illuminated pushbuttons and emergency stop switches (other EAO products on request).
The robust construction combined with front protection of up to IP67 enables reliable switching – even at operating temperatures ranging from –25°C to +70°C (depending on the integrated products), in dirty environments and under high humidity or severe vibration.
The front design can be optionally and flexibly adapted to almost any application with an age-resistant polyester film (e.g. for customer logos or warning symbols), a marking plate or a LED status indicator. EAO integrates any additionally required electronic functions onto a PCB and can equip and connect the Smart Box to meet specific needs.