Compact emergency stop with low build height.
The EAO Series 84 has been optimized to handle a higher number of activations and now can handle both IP65 and IP67, thanks to the fact that the pushbutton head is manufactured in one piece. In the new generation, you also get a more visible LED indication in case you choose an illuminated e-stop. All this to the same low build height as before, which allows use in compact applications where space is limited.
The stop switch is approved according to the latest international standards EN 60947-5-5 and EN 418 (updated in accordance with EN13850). The robust monoblock design has a secure mechanism for breaking the electrical contacts as well as a green indicator ring to indicate if the switch is activated. With the optional LED lamp you get a high brightness that makes the product clear, even in low ambient light.
E-stop / Stop switch
Low rear height: 13.5-17.6 mm depending on the design
Also low building height outwards: 26 mm with ∅32 mm head
22.5 mm mounting holes
IP65 / IP67 sealed with rugged construction.
Optional LED lighting.
Coloured indicator ring, green or black. (Displays the status of the switch from the side)
Available in red or grey.
Mechanical service life of over 250,000 activation cycles.
Withstands temperatures between -25 ° C to 65 ° C.
Voltage: 250V AC / DC
Current: 5A
Classified according to EN IEC 60947-5-5
Certified according to directive:
- EN 60947-5-1 / EN 60947-5-5
- DIN EN ISO 13850
- EN IEC 60204
- UL Cat NISD 508
- CCC (pending)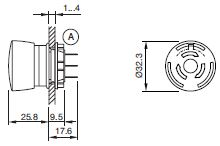 Specifications
| | | | | | | | | |
| --- | --- | --- | --- | --- | --- | --- | --- | --- |
| Product | 84-5331.2B20 | 84-5321.2B40 | 84-5221.2B20 | 84-5341.2B40 | 84-5241.2B20 | 84-5331.2B40 | 84-5231.2B20 | 84-5220.0020 |
| Illumination | Red | Red | Red | Red | Red | Red | Red | - |
| Indicator ring | Green | Green | Black | Green | Black | Green | Black | Green |
| Terminal | Plug in | Flat ribbon cable | Plug in | Flat ribbon cable | Plug in | Flat ribbon cable | Plug in | Flat ribbon cable |
| Kontakt | NC + NO | NC | NC | 2 NC | 2 NC | NC + NO | NC+NO | NC |
| | | | | | | | | |
| --- | --- | --- | --- | --- | --- | --- | --- | --- |
| Produkt | 84-5220.0020 | 84-5340.0040 | 84-5240.0020 | 84-5330.0040 | 84-5230.0020 | 84-5320.0020 | 84-5221.2B40 | 84-5340.0020 |
| Illumination | - | - | - | - | - | - | Red | - |
| Indicator ring | Green | Green | Black | Green | Black | Green | Black | Green |
| Terminal | Plug in | Flat ribbon cable | Plug in | Flat ribbon cable | Plug in | Plug in | Flat ribbon cable | Plug in |
| Kontakt | NC | 2 NC | 2 NC | NC + NO | NC+ NO | NC | NC | 2 NC |
| | | | | | | | | |
| --- | --- | --- | --- | --- | --- | --- | --- | --- |
| Produkt | 84-5241.2B40 | 84-5330.0020 | 84-5231.2B40 | 84-5220.0040 | 84-5240.0020 | 84-5230.0040 | 84-5321.2B40 | 84-5341.2B20 |
| Illumination | Red | - | Red | - | - | - | Red | Red |
| Indicator ring | Black | Green | Black | Black | Black | Black | Green | Green |
| Terminal | Flat ribbon cable | Plug in | Plug in | Flat ribbon cable | Flat ribbon cable | Flat ribbon cable | Plug in | Plug in |
| Kontakt | 2 NC | NC + NO | NC + NO | NC | 2 NC | NC + NO | NC | 2 NC |