APM Hexseal® holds the notable distinction of having designed and patented the very first self-sealing fasteners, which later became our trademarked Seelscrews® and Seelbolts®. In addition to providing a strong, reliable seal against all manner of contaminant(s), APM Hexseal's wide range of hardware products are designed for easy installation and equally easy removal and reuse.
APM Hexseal's self-sealing fasteners and sealing washers – When simply fastening just isn't enough!
Manufacturer: APM Hexseal, USA
Technical data
| | |
| --- | --- |
| Pressure range | Up to 20000 psi |
| Material | Stainless steel |
| Temperature range | -106°C   - +260°C |
| Seal | Silicone |
Below is a selection. Other threads such as imperial are also available.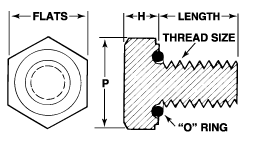 Thread
Length
(mm)

Size P (mm)
H Max (mm)
FLATS (mm)
Hole size
Min (mm)
Max (mm)
M3 x 0.5
6 till 30
6.24
2.13
5.5
3.55
3.65
M4 x 0.7
8 till 30
7.92
2.93
7.0
4.39
4.54
M6 x 1
8 till 50
11.28
4.15
10.0
6.73
6.83
M8 x 1.25
12 till 50
14.69
5.65
13.0
8.45
8.55
M10 x 1.5
12 till 50
19.25
7.18
17.0
10.53
10.64
M12 x 1.75
20 till 50
21.50
8.18
19.0
12.79
12.90
M16 x 2
20 till 50
27.23
10.18
24.0
17.52
17.63