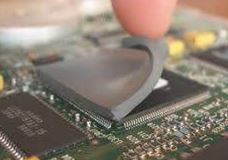 CoolZorb is a hybrid absorber/thermal management material that is used for EMI mitigation. Product is used like a traditional thermal interface material between heat source such as an IC and heat sink or other heat transfer device or metal chassis. CoolZorb also functions to suppress unwanted energy coupling, resonances or surface currents causing board level EMI issues.
Features - CoolZorb Absorbent
Designed using silicone gel binder that imparts inherent tack typical of standard thermal gap fillers
iller particle composition imparts both good thermal conductivity and EMI suppression in the microwave frequency range with best attenuation performance at or above 5 GHz.
UL94V0
Soft, compliant pad which exerts minimal stress on mating components during assembly while providing good thermal transfer properties due to low interfacial resistance.
| | |
| --- | --- |
| Properties | Data |
| Thermal conductivity | 2,0-4.0W/mK |
| Hardness | 55-60 Shore00 |
| UL Flammability | UL94V0 |
| Standard thickness range | 0,5-3,3mm |